Over the years Bezeugen Ministries has designed over 100 Gospel tracts. These tracts are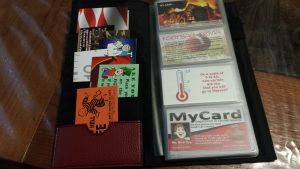 made available for FREE through the Bezeugen Tract Club. Some designs, like the Thank You tract, fit many occasions. Others are specifically designed for holidays, sporting events, or particular people groups. How are you supposed to keep them all organized so that you have the right tract at just the right time?
Introducing the Tract Rolodex from Bezeugen. Holds over 100 tracts. Includes extra tracts to restock it. And it comes stocked with a collection of over FIFTY tract designs from Bezeugen Ministries. Never before has it been possible to get such a broad selection of Bezeugen Tract Club tracts at one time!
The Tract Rolodex and tracts will be shipped to you as our gift to you for a minimum donation of $50 or more to Bezeugen Ministries. Ships to United States addresses. While supplies last!