The Eternity Where tract made its debut in the October 2015 mailing of the Bezeugen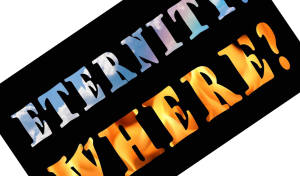 Tract Club. Scott recalls, "A few months back, I was thinking about another idea for a tract. I remembered a sermon illustration that my pastor, Tracy Boyd, had used years ago. He got it from a sermon called "Eternity" by J. Wilber Chapman."
This is that illustration: The old cobbler sat day after day on his little bench, hammering away at the shoes, and before him was an old-fashioned clock. After a while he thought that the pendulum of the clock was speaking to him and he heard it say as it swung one way, – Eternity, and when it went the other way, – Where? And the old clock became a preacher and he heard it speaking like this:
"Eternity, where? Eternity, where?
The question is a solemn one. Eternity, where?
I messaged Carl about putting the words "Eternity: Where" on the front of a tract. He designed the lettering with the clouds in " eternity" and the flames in "where". The result is an eye catching design with a solid Gospel message.
We pray that the Eternity Where tract will be useful in sharing the Gospel with the lost.